August 8, 2008 – 1:18 pm by
Hickey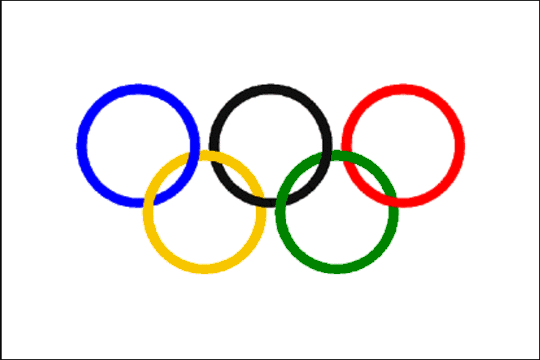 So, after another four-year wait, it's finally time for the Olympics. And I know all you modern pentathlon fans out there are super-stoked. But before any of the events could begin, we had to make time for the Opening Ceremonies.
And though I am in no way, shape or form homosexual other than my feelings for Jeremy Piven, I couldn't help but notice that some of the fashion choices in the Parade of Nations left a little something to be desired.
For instance, check out the Canadian duds:
I was expecting the Canadian costumes to look something like
this
, but these appear to have more of an urban feel. Perhaps they were designed by Mark Ecko, who was inspired by a trip to Saskatoon's underground hip-hop clubs.
At least the Canadians didn't look as silly as we did:
Who the hell designed these hats, Pat O'Brien? (PS — It appears Pat has erased all ridiculous photos of himself in Kangol hats from the internet. Damn.)
If you are looking for more fashions of the Opening Ceremonies, I'd suggest checking out the official page at NBCOlympics.com, since they have it in a
nice slide show
that I can't steal any images from. While you look at the slide show, though, remember to keep these questions in mind:
– With all the great athletes in Brazil, how did a guy who looks like Gilligan end up carrying the flag?
– There are over a billion people in India, but only about 30 people on the Indian Olympic team. I realize that half of those billion people are doctors, but don't you think they could find more than 30 good athletes? They have an entire subcontinent to pick from.
– Do yourself a favor and check out the dude from Guam. He's the 13th photo in the series of 41. Every four years, it's stuff like this that inspires me to move to a place like Guam so I could become a skeet shooter or curler just to say I was in the Olympics. Call me Becky Hammon if you must. I can be bought. (On a side note, Becky Hammon can call me if she must. Heyo!)
– If Skeletor and The Joker had a baby, it would look like Andrei Kirilenko in the 22nd picture in this slide show.
– New Zealand's flag bearer appears to have earned some sort of fur pelt from Genghis Khan. (Picture 38)
– You can put Dirk Nowitzki in fancy clothes, but he's still going to look like a doofus. Kind of like me.
Finally, after much speculation in China over who would get the honor, the Olympic Torch was finally lit by former gymnastics champion Li Ning. Shame. I was expecting the Chinese to give the honor to the guy who refused to get out of the way of that tank in Tienanmen Square.