October 29, 2007 – 3:47 pm by
Hickey
When I wrote my first real piece for this blog last week, regarding the sports woes of the fine cities of Cleveland and Buffalo, I figured that the content would resonate with readers. And I was fairly confident — maybe even cocky — that I'd get as many as 10 or 12 people to respond. Instead, the column had over 50 comments, which certainly exceeded my wildest hopes.
But with that success also comes worry. Now, will readers constantly be expecting me to top myself? Did I just use my "Chocolate Thunder" dunk in the first round? Can this success continue, or will I be remembered in the same sentence as 1994 AL Rookie of the Year Bob Hamelin? With so many unresolved questions staring me in the face, I decided the best route for my next column would be the easy one — responding to the comments left by you, the fine readers of Rumors and Rants.
First, some general observations:
– I have learned that Pittsburghers tend to treat Cleveland with the same type of respect one would normally afford to a urinal cake. In fact, I daresay they treat Cleveland even worse, since I do not always urinate directly onto the cake myself. At any rate, these things make me wonder if Clevelanders ever dream about firebombing Pittsburgh or something similarly drastic, since having the Browns beat the Steelers seems to be a more unrealistic option.
– I still think that Buffalo has it ever-so-slightly worse than Cleveland, though rankings are subject to change with future sporting disasters. And those who suggest that the Sabres are irrelevant because "hockey doesn't matter" has not met anyone from the greater Buffalo-Tonawanda-Orchard Park area. Have you seen how close that is to Canada? Of course hockey matters.
– Upon further inspection, the most depressing place to be a sports fan in America might not be Buffalo or Cleveland — but Erie, PA. With the town located halfway between Buffalo and Cleveland, it is theoretically possible for an Erie resident to be a fan of the Bills, Sabres, Indians and Cavs. And it's also close enough to Pittsburgh for your Steelers fan neighbor to always make fun of you. The thought of it all almost has me reaching for a bottle of booze, and I don't even care one way or another. Can any Erieites vouch for this being the case?
AND BACK TO THE RUNNERS-UP

Several fans from places not named Cleveland or Buffalo chimed in with the belief that their greater metropolitan areas are also deserving of some slices of pity pie. Some of them had a pretty valid point, while others… well, not so much.
Philadelphia: Yes, I oversimplified things a bit by suggesting that Philly's championship drought might have a correlation with the fans being a-holes. After all, between the '64 Phillies, Joe Carter, the Eagles multiple NFC title game failures, the 76ers descent to the bottom of the Eastern Conference and the Flyers general sucktitude of last season, there's no doubt in my mind that Philly is the bronze medalist in this competition of sports woe.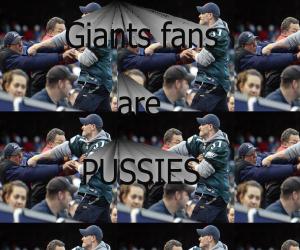 And as it turns out, Philly fans aren't so mean after all. One gentleman even was kind enough to invite me to a game at the Linc before calling me "Bitch," which as I understand is a term of endearment in the City of Brotherly Love. Unfortunately, I can't make it this season, but next time Brian Griese plans on engineering a 97-yard drive in the final two minutes (or just a drive that doesn't result in an interception) I will gladly take you up on the offer.
Minnesota: Perhaps my brain was clouded by the fact Minnesota is my favorite place to visit in these United States. Or that the one thing that makes me think "Minnesota sports" is the 1991 World Series, which was just about the coolest thing a 9-year-old kid could ever watch.
But Minnesota certainly deserves a spot in the Top 5 of sporting ineptitude — personally, I'd place it in fifth, just behind Seattle. The Vikings whole history is written on falling short of the big one, unless "the big one" was the name of a dildo on the Fred Smoot sex cruise boat. The face of the T'Wolves is now… Michael Doleac? The loss of the North Stars ranks with the Browns' move as one of the most inexplicable crimes in sports history. And just as painful, as both Stars and Browns fans watched their former franchises win titles in different cities. At the college level, the Gophers finest basketball season no longer exists if you look at the record books. And seriously, losing to North Dakota State in football? Yikes.
Milwaukee: So, some guy tried to convince me that Milwaukee is a tortured place to be a fan, because the Bucks and Brewers have sucked for a long time. OK, I can see that. But what about a certain Brett Favre and the Packers? Seeing them beat the Bears for an entire decade straight doesn't sound so rough.
Well, according to this guy, that doesn't count, because they play in Green Bay, not Milwaukee. Roight.
They might not play games at County Stadium anymore, but the Pack is Wisconsin's team, whether you are in Minocqua, Milwaukee or Madison. When I was driving through Miltown this summer, I turned on WTMJ expecting to hear the Brewers game, since it was the heart of the pennant race. Instead, the Packers' preseason game took precedent over that. More than anything, they are what matters in Milwaukee. If you try arguing any differently, I will melt your cheesehead.
Phoenix: No, it has never be easy watching the Cardinals, even back when Vai Sikahema was the Tongan version of Devin Hester. And it's hard to dispute that the Suns were jobbed by the NBA after last year's playoff fracas with the Spurs. Nor can it be fun showing up to games where a good number of fans are cheering for the opposing team since they are some sun-seeking, carpetbagging transplant.
But if Phoenix fans are truly tortured, don't you think they might, I don't know, sell out their stadium for the National League Championship Series? And what exactly is a hockey team doing in Phoenix? Put them back in Winnipeg. I'd still put Phoenix on a Top 10 most tortured cities list, but not very high up. Given another generation's worth of angst, though, you might earn an elite spot.
Atlanta: Poor Atlanta sports fan. The guy who commented on this blog is probably the one guy that actually shows up to Hawks games, and for that I truly feel sorry. But most tortured sports fans are tortured because they ACTUALLY SEE THEIR TEAMS LOSE IN PERSON. I get the impression that most Atlanta sports fans are more interested in who the Dawgs are recruiting to be third-string tight end than what's going on with their pro teams on the playing surface. Then again, who can blame them?
New Orleans: As we know, sports is a blip on the radar screen of rough breaks for the Big Easy, so it does feel sort of trivial even bringing it up. But the city where fans invented putting a bag on your head is certainly worthy of mention on any list of tortured sports fans.